---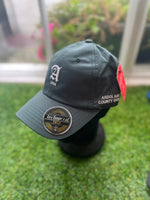 Poly Dobby fabric with Buckram backing behind front two panels. Unstructured crown, pre-curved visor, contrasting undervisor, and adjustable Velcro¨ Tech backstrap.
Ardglass Branding
All our products contain high quality stitching  featuring Ardglass Golf Club branding.
Each product has unique branding, so make sure to check out the product images for specific details.
Shipping Policy
Your order will shipped during the next business day.
We will always use tracked postage.
Return Policy
At this time, returns are not accepted.